Somalia's 2 Olympic athletes defy civil war and
terrorism to compete at London Games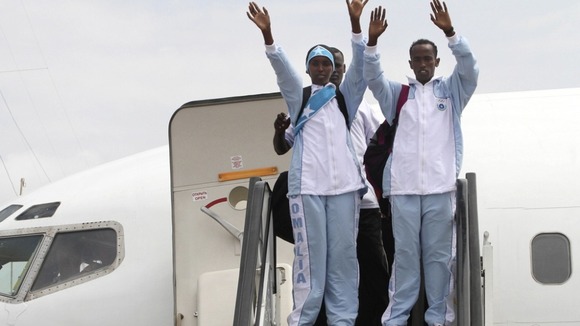 The Somali Olympic team arrives in London ahead of the Olympics. Photo: Reuters
MOGADISHU, Somalia — July 19, 2012 (AP) - Training on the bullet-riddled streets of Somalia's civil war-wracked capital city, Mohamed Hassan Mohamed and Zamzam Ali Farah have defied war and terrorism to make the 2012 London Olympics.
In Mogadishu, it's not just very difficult to be an athlete — it's life-threatening. There are armed militias, jumpy gunmen and stray bullets. Suicide bombers can strike at any time
Somali sport has often been affected by the constant violence that has crippled the country for two decades, but it was rocked to its core this year when the heads of the national Olympic committee and football federation were killed in a bomb blast.
And for middle and long distance track athletes Mohamed and Farah, their everyday routine put them in daily danger.
Somalia has no working national sports stadium. Just an abandoned old facility with no proper track. It forces athletes to run on the rubble-strewn roads — possibly the most dangerous in the world — where nervous government gunmen and terrorist militants roam.
"Imagine when you live in a country that hasn't got a sports stadium," said Farah, who will compete in the women's 800 and 1,500 meters at London's new Olympic Stadium — a stark contrast to where she has prepared.
"We had nowhere to run and train except on the streets of Mogadishu at a time when the fighting was at its worst," she told The Associated Press.
"We still had to train and run, getting up very early in the morning, running past road blocks manned by armed militias. Sometimes the soldier on guard would mistake us for being suicide bombers or attackers, and order us to stop or they would shoot."
Sometimes they would also be detained for long periods by suspicious soldiers and abandon their training for the day. Sometimes it was too dangerous to go out at all.
The two runners are the troubled east African country's only athletes at the London Games, but they said the risks were worth taking to realize their Olympic dreams.
"I really wish that I will win something because I have been training so hard," Mohamed told The Associated Press. He will run the 1,500 and 5,000 meters in London. "We train in the morning and afternoon ... despite the fact that there are hardly any sporting facilities here."
Mohamed and Farah would sometimes go to Mogadishu's Conis Stadium, they said, but the facilities were so poor they would rarely train there.
"Yet we would come to this abandoned stadium and dream that one day we would go to the Olympics, and finally we have come to this day when our dream to go to the Olympics has come true," Mohamed said. "I need to tell the world that Somalia is alive and kicking and that I have come to carry the flag of my people."
Somalia's Olympic committee chief Aden Yabarow Wiish and football federation head Said Mohamed Nur were among 10 people killed in the bomb attack at an outdoor theater in April, throwing the country's hard-hit sporting setup further into chaos.
But, as they've done all their careers, Mohamed and Farah refused to give up following the bloody attack and renewed their determination to make the London Games.
Somalia hasn't had a functioning government since 1991 and has been gripped by civil war and more recently a wave of terror attacks linked to militant group al-Shabab — which has connections to al-Qaida.
Both Mohamed and Farah have lost members of their families in the two decades of fighting in Somalia.
But against the odds, Somalia has sent a small delegation of athletes to the last five Summer Olympics and will continue that tradition with Mohamed and Farah. A generation that has grown up surrounded by war and violence and hardship will be represented at the London Games.
"We have lived and grown up in very different circumstances than other athletes," Mohamed said. "We have been raised in a country that has had 21 years of civil war.
"I do this (go to the Olympics) with pride and feel honored to show the world that we are indeed here. But also to ask the world not to abandon Somalia and its people, and for my part I will do my best and hope that I will do well."
Source: AP
Copyright © 2012 WardheerNews.com